Expert, Reliable Service In Dearborn, MI
Even if you're adamant about taking care of your vehicle, you'll undoubtedly need to keep up with routine service, maintenance and repair work. When that time comes, you can always rely on our team of expert, certified technicians here at Fairlane Ford.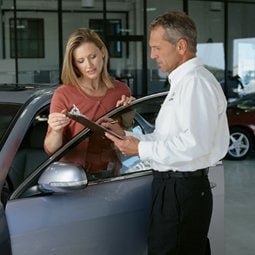 We're honored to provide drivers in and around the Dearborn, Detroit, Dearborn Heights and Allen Park areas with expert service, attention to detail and a quick turnaround time. Whether you're coming to us for a routine tune up, something quick like an oil change or something more pressing, you can always rely on the best caliber of service in the entire area.
We make sure we perform expert work, and our certified technicians always come through, even when the problem seems tricky to overcome. We'll be sure to quickly, efficiently and expertly carry out any service tasks, general maintenance, repair work or part replacements. We also only use the highest quality products on the market to make repairs and replace parts.
If you want to make sure to get your vehicle on a routine service schedule, please call our service center today. You can also always swing down in person to speak to a technician or schedule an appointment online.
Trust the Fairlane Ford Service Center in Dearborn for Service Recall Repairs 
Ford is an American automotive icon, founded more than 115 years ago right here in Dearborn. Its commitment to building quality vehicles is unquestioned. Ford is constantly looking for new innovations, and ways to improve previous models--which is where factory recalls come in. 
Identifying and Resolving Common Issues 
On the rare occasion where a systemic issue is identified in a Ford car, truck, or SUV, the company will issue a recall. If your Ford in Detroit is ever affected by a recall, make an appointment with the expert technicians at the Fairlane Ford Service Center. We'll take care of you from there! 
All Recall Repairs are Made Free of Charge 
Recalls aren't issued lightly. Every announced recall is designed to fix an identified problem that poses a safety hazard to you and other drivers on the road. That's why Ford owners in Dearborn Heights can bring their recalled vehicle to Fairlane Ford and have the problem repaired for free. Ford offers this service for two reasons: 
It wants all recalled vehicles to be fixed as quickly as possible.
 
You deserve and expect a quality car when you chose Ford, and free recall repairs is one way the company meets that expectation. 
Find Out If There's a Recall on Your Ford 
All you need to learn if there's a recall on your Ford truck or SUV in Allen Park is your VIN. Enter it into the search bar on the Ford Owner page, and you'll learn if there's a recall on your vehicle. 
If so, take a moment to schedule an appointment with the Fairlane Ford Service Department online, or just give us a call! We'll pick the service window that's right for you, and get the necessary repairs done in a timely manner!