Quality Automotive Parts In Dearborn, MI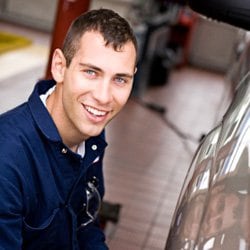 Each part of your vehicle performs a specific, important function that allows you to move smoothly and safely over all kinds of terrain. Eventually, whether it's normal wear and tear or because of an accident, you'll likely have to replace certain parts of your vehicle. When that time comes, it's always best to seek out the highest quality part on the market.
Here at Fairlane Ford, we serve the Dearborn, Detroit, Warrendale, Southfield, Taylor, Dearborn Heights and Allen Park areas, and we strive to provide the highest quality automotive parts and accessories straight from the original manufacturer.
Whether you need new tires, new windshield wipers, a new battery, a new muffler, a remote starter, new brake pads or something more intricate, we're here to help. We've got a variety of high quality, genuine parts that will work correctly with your vehicle and that are a better option than buying a cheaper alternative. Our parts are the parts your car was designed with originally, meaning you'll drive confidently, smoothly and safely knowing that your vehicle's parts are all working correctly together.
If we don't have a particular part you need, we can easily order it for you. We're also able to install any part you need on your vehicle as well. Please inquire about the part or parts you need today by doing so online or by calling us at (855) 215-3673.